Skip to Content
Emergency Dentist Oakville
Emergency Dental Care in Oakville
Accidents can happen. If you unexpectedly find yourself in severe tooth pain, you won't care as soon as possible. Broken, dislodged, chipped, and loose teeth can be frightening and painful. Oakville emergency dentists Dr. Ammar Rashid & Dr. Lmis Ali have been handling dental emergencies throughout their entire careers as dentists. Oakview Dental Group's caring, knowledgeable staff are well-equipped to handle any dental emergency you may have. They are here for you!
The nurturing team at Oakview Dental Group will book you an appointment and cater to your needs as soon as we're able. We'll help you stay as comfortable as possible as we work to remedy your situation. Even if you're not a current patient at our office, we will still treat you. We want our clients to be comfortable in this troubling time, knowing that somebody is looking out for them. We'll get you the relief you need as fast and efficiently as possible.
Call ahead or visit our office today for emergency services.
If you are experiencing a life-threatening injury, please visit an emergency center close to you before attending our office.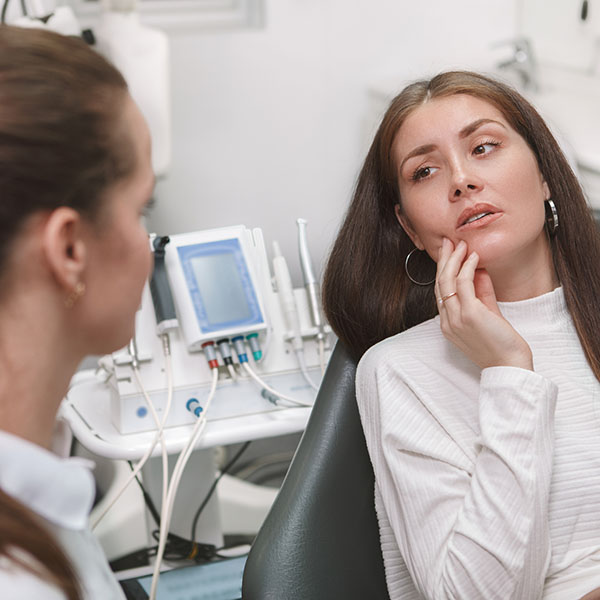 What Constitutes a Dental Emergency?
We treat all types of dental issues at our Oakville office. Included in our list of symptoms that fall under emergency dental services are:
Extreme toothache
Wisdom tooth pain
Inflammation
Denture repair
Emergency cosmetic repair
Knocked-out tooth
Cracked tooth
Fractured tooth
Emergency root canal
Broken orthodontics
Dental crown repair
Emergency Dental Care Clinic and Emergency Dental Services in Oakville
While dental emergencies can be scary, while you're in our care, you know that you're receiving excellent service from professionals. We treat our clients and new patients with urgency and compassion. Because we don't want any emergencies to become worse, we treat these scenarios with the utmost importance. Call us right away if you've experienced an accident resulting in tooth pain. We offer same-day appointments to get you the help you need quickly. Additionally, if you require other work, we're happy to refer you to other professionals for treatment. Accidents are unpredictable, but compassionate and efficient care isn't. The staff at Oakview Dental Group is here to help.
Call Today to Schedule Your Appointment