Skip to Content
Invisalign® Clear Braces Oakville
Align Your Smile With Invisalign® Treatment in Oakville
Clear Braces Oakville
Take advantage of the noninvasive convenience of aligning your smile with Invisalign®. We understand that many people associate traditional metal braces with pain, embarrassment, and anxiety. By using Invisalign® technology with our clients, we help provide Oakville, ON with beautiful smiles for everyone. They're comfortable, removable, and nearly invisible to the untrained eye! As the process moves along, we send you new and adjusted trays that you continue to wear till your teeth and smile align perfectly where you want them. Each set lasts about two weeks, and you only remove them to eat and brush. Overall, the treatment lasts only about a year, depending on how much work we need to do. If you've been frustrated by your smile or noticed a few crooked teeth, call Oakview Dental Group to schedule a consultation. We'll help you get your smile to perfection!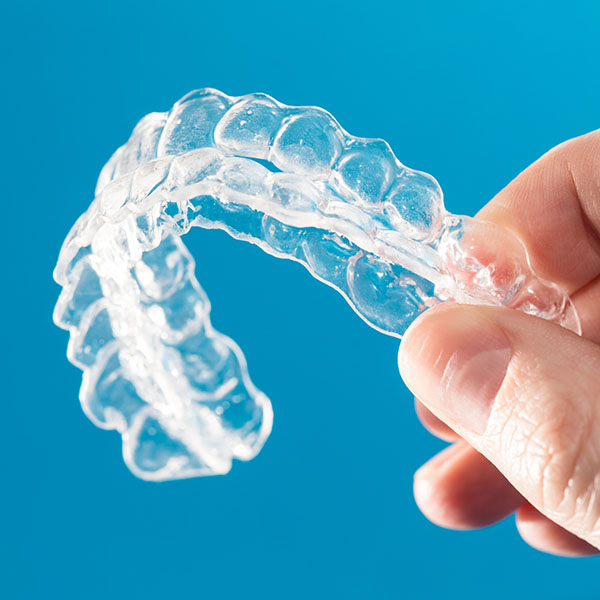 How Does It Work?
There are many advantages to Invisalign® over traditional metal braces. One of the best aspects, besides being nearly invisible, is the lack of involvement on your side. After your first appointment, we'll construct a personal plan just for you and your smile. Unlike traditional braces, you won't need to take time away from your busy life to come in for adjustments every month. When you're ready for your next alignment tray, we'll just mail it to you, and you'll swap them out. There's no need for wires, no tightening, no pain, and no frustration. We gently align your teeth into place with a series of trays, allowing you to live your life while getting a great smile.
Easy, Flexible, Adaptable
Too many times, people with traditional braces feel like they need to alter their entire lifestyle to fit their new hardware. They're limited on the foods they can eat, pictures they want to take, and specific cleaning regimens. Invisalign® is meant to complement your lifestyle, not be a burden. Take them out for special events or a particularly sticky piece of caramel for that midnight snack. If you've always wanted to get a straighter smile, but never wanted to commit to braces, Invisalign® is a perfect alternative. Contact our office today for an appointment.
Call Today to Schedule Your Appointment