Skip to Content
Shine Bright in Oakville With Our Teeth Whitening Services
At Oakview Dental Group, we employ ZOOM! Teeth Whitening Experience for our clients. We help you make the most out of your smile by restoring it to shining brilliance. Feel confident and show off your pearly whites after our treatments. If you've been nervous in the past about smiling with your teeth or taking photos, you're not alone. Thousands of people suffer from discolored teeth, causing them different levels of anxiety and embarrassment. But hope is not lost! We're here to help. Call our office today and talk to our friendly team about ZOOM! Teeth whitening.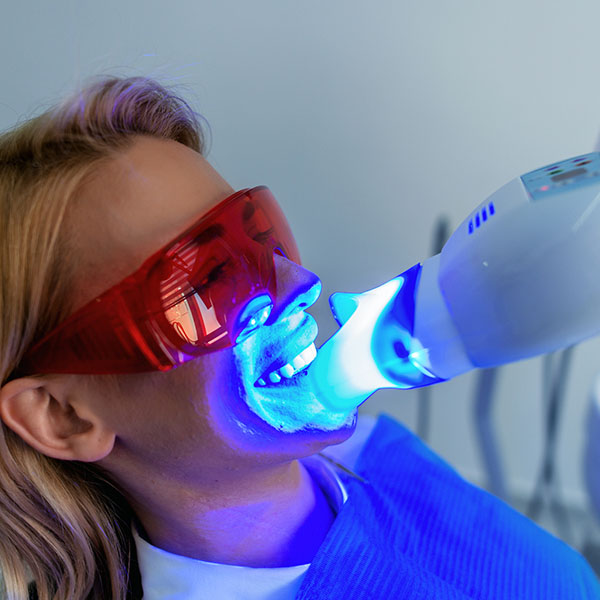 Better Whitening With Zoom!
Get a noticeable improvement in your teeth. As the most common cosmetic dentistry procedure, we're no strangers to teeth whitening. Plenty of people have tried over-the-counter products, whitening trays, and even home remedies for brighter teeth, but they pale in comparison to professional treatments. When you come into our office, we'll fit you with high-quality ZOOM! Whitening treatment that whitens your teeth effortlessly while you sit back and relax. The process is easy, quick, and painless. Long gone are the days of sitting at home with a mouthful of uncomfortable whitening trays that cost more than they're worth.
How Does It Work?
Before we get started whitening your teeth, we conduct a full examination of your mouth, gums, and teeth. This helps us get a better idea of the treatment and how your teeth will react to the whitening process. We will apply a bleaching gel to your teeth with our professional tools and equipment. During this process, you're free to relax, nap, read, or take care of any work you made need to do while waiting in your chair. After we finish, you're free to go about your day. There's no recovery or downtime, and no pain. Boost your confidence without the fuss today. Call our Oakville office today and schedule your appointment for a brighter smile.
Call Today to Schedule Your Appointment