Skip to Content
MTM Clear Aligner Oakville
MTM Clear Aligner Treatment in Oakville
Discreet Orthodontics to Straighten Your Teeth
Skip traditional braces in favor of a breaking new technology called MTM Clear Aligner. This technology allows you to correct your smile with clear, removable aligners. They help treat slight misalignments, gaps, and crowding in your teeth without the need for metal, wires, and other intrusive equipment. At Oakview Dental Group, we customize each step of the process directly for you and your teeth. The idea is to effortlessly align your teeth to accomplish a straight and healthy smile. The MTM Clear Aligner method works while being more affordable and less time-consuming than both traditional braces and other invisible tray methods. Call us today to get started on your new smile with MTM Clear Aligners.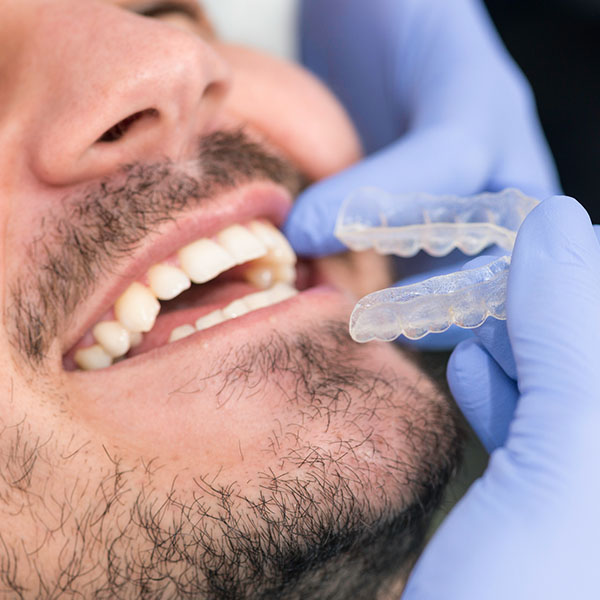 Affordability Without Sacrificing Effectiveness
If you ever had braces in the past, you may know how expensive they can be, let alone uncomfortable. Technology has thankfully come a long way since the days of traditional metal braces. This allows us to provide Oakville and the surrounding communities with safe, effective, affordable, and painless ways to align their smiles with great results.
Other Added Benefits of Aligning Your Smile
Making sure your teeth are properly aligned isn't just for aesthetics. Sure, you want a straight and bright smile, but there are added health benefits to a straight smile as well. Misaligned, crooked, and crowded teeth can cause long-term damage such as stress on your jaw, excessive wearing of your enamel, and negatively affecting the bone structure. The longer your teeth sit misaligned, the more damage can happen to them. Additionally, crowded teeth can be problematic during cleaning. When your teeth overlap, regular brushing and flossing can't reach bacteria in those areas. When that bacteria builds up, it can lead to periodontal disease, cavities, and other decay. You may not know you have tartar buildup due to overcrowding. Make an appointment with the team at Oakview Dental Group today and let our caring staff see if we can align your smile with MTM Clear Aligners.
Call Today to Schedule Your Appointment